Grenache – Exploring the Underdog grape with Australia's master of grenache, Peter Fraser of Yangarra Estate.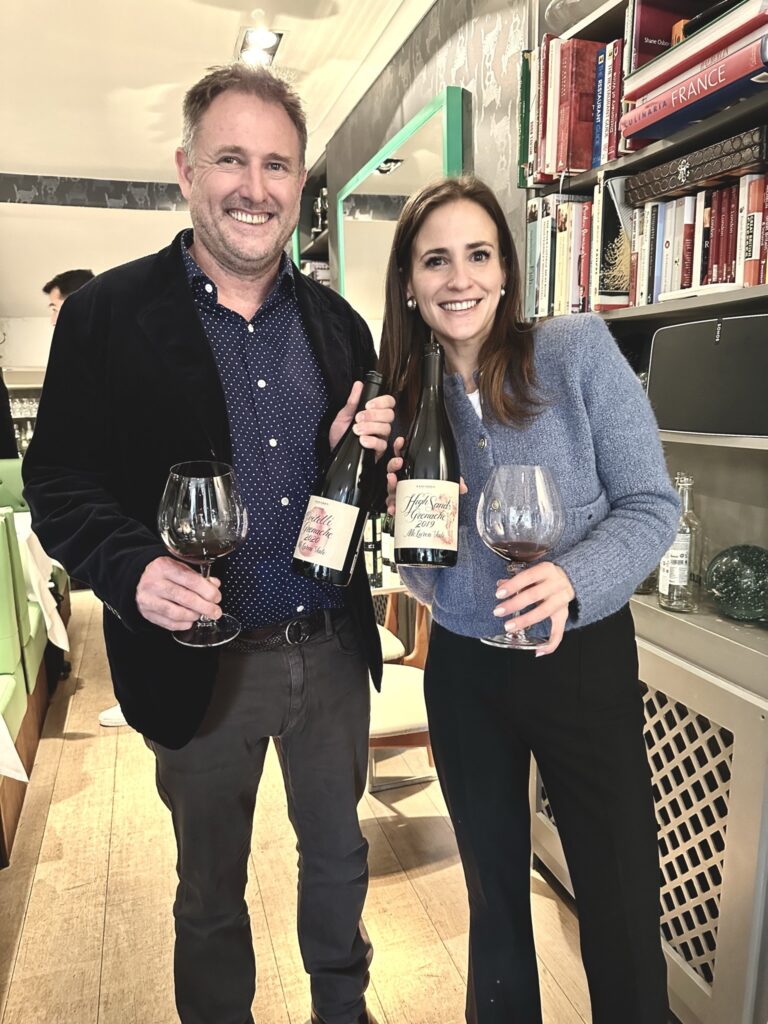 I have always been a champion of underdogs and there could not be an underdog with more
substance than Grenache. It is now the underdog which EVERYONE is talking about. And Peter
Fraser, winemaker of Yangarra Estate for 20 years, definitely does this beguiling and beautiful
grape justice. There is a reason why he has won 'Winemaker of the Year' by Wine Enthusiast
and renowned Australian wine critic, James Halliday.

What makes Grenache so great and why does Yangarra look after this underdog so well?
The anise spiciness, pure red fruits, levels of texture and citrus rind freshness make it glorious
to sip and EXTREMELY versatile with food. I have always been a fan of Rhone wines but
Grenache is usually associated with bold Southern Rhone blends and so it is hard to appreciate
as its own entity.

My eureka moment with this grape happened when someone compared their favourite
Grenache as being similar to Pinot in its seductive aroma, silky texture and complexity of
flavour. The best versions of which come from cooler sites in warm regions which makes
Yangarra's 90 hectares, elevated at 250m in Mclaren Vale, Australia – a perfect location.
This physical factor combined with Peter's biodynamic approach for 15 years allows this grape
to show off its pure charm and age ability. By staying in tune to the land, following the
biodynamic calendar, as well as using ceramic instead of more porous vessels such as terracotta
or oak, his Grenache blew me away with their intense power, playful spice and perfume.

Grenache tasted:

The Old Vine Grenache 2021, made from vines planted in 1946 (!), exudes intense spiced plum
and has fantastically subtle yet bright acidity. A fantastic introduction to these complex and
age worthy wines. Available in the UK for 31.00 at The Vinorium and Fareham Wine Cellars.
Fells Wine are the UK importers for Yangarra Estate.
To compare, we then tasted The Old Vine Grenache 2011 which wowed everyone in the room
with its succulent tannins, dark plum fruit, amaro inkiness and clove spice. The lesson from this
story: these wines taste great now, but if you can hang onto them – you will be rewarded!
We also got to try two other Grenaches from two separate sites – the Ovitelli Grenache 2020
and High Sands Grenache 2019.
For those who are looking for instant vinous satisfaction – hunt down High Sands Grenache 2019. Available in the US and coming to the UK later this year.

I adored the pretty orange rind perfume and orange peel freshness on the palate combined
with raspberry cherry fruit, anise spice and a warm earthy finish. No wonder it has been
compared to the great Grenaches of Chateauneuf du Pape, iconic wines like Rayas and
Beaucastel.

The Ovitelli Grenache 2020 is actually Peter Fraser's current favourite Grenache but it is going
through a slightly dumb period at this point in time. That being said, it did begin to open up in
my glass after 30 mins. It slowly revealed almost Nebbiolo like characters of dark cherry fruit,
smolders of tar and that bitter sweet amaro inkiness. 2020 was an epic year but this wine is a
sleeper so you would need to be patient for 5-10 years!
This will be coming to the UK later this year and is currently available in the States.
As well as tasting incredible wine and food, what I really ADORED about this tasting was being
able to sit next to Peter and chat to him about all kinds of things, from astrology and climate
change to regenerative farming and holistic viewpoints in regards to a vineyard as well as the
physical body.
This formidable winemaker is a true champion of a grape which I think will overtake Cabernet
and possibly Shiraz in Australia's future. For someone to be this driven, consistent and
successful, you must have an ethos. It was wonderful to be able to talk about winemaking in all
its facets and to go on a vinous adventure which expressed his evolving ideas. It's these
conversations which remind me why I got into wine and all the different kinds of connections it
can lead to.
Some of my favourite quotes/ take aways from Peter:
Why did you start farming biodynamically from 2008?
You have to be proactive when looking after the vines. By taking these steps, I can actually be
more in charge of mine and the vines destiny. It is a bit like when you go on a physical detox for
the body. By stripping things away, you become more in tune with your body and its needs. It's
the same for the vines. By doing biodynamics, I stay ahead of the game.

What is one of things which you have struggled with due to climate change?
Knowing when to pick the grapes to make the wine. It is a bit like making cookies. If you pick the
grapes, and it tastes great, then you have missed the boat. You need to pick them right before,
like when you take the cookies out of the oven when they are still gooey. I have had my fair
share of picking/ overbaking the grapes/ cookies!
What made you choose to use ceramic to age your wine instead of terracotta or oak?
All the cool kids were using terracotta amphoras. The problem with terracotta and oak is that it
is much more porous than ceramic. That's why the Georgians would bury the terracotta
Amphoras in the ground. Grenache is quite an oxidative grape and therefore you want to reduce
the amount of oxygenation which goes into aging. Oak is less porous than ceramic, but
Bordeaux Barrel has 5% porosity and Austrian barrels ( which we occasionally use) still has 3%.
Ceramic has 2% porosity which allows some microcygenation which is important, unlike
stainless steel where there is no porosity and you would mute all expression of flavour.

Is the amphora shape important?
Shape is less important – as long as it is round. We have been using egg shaped ceramic
containers since 2013.

Could Grenache be Australia's main grape due to climate change and will it beat Shiraz and
Cabernet in survival and true expression?
It very well could be. It is a lot more drought resistant than Cabernet and can deal with high
temperatures. The very best examples though will still come from cool, elevated sites in warm
regions. There are some fantastic New World examples but you just need to make sure that the
wine is being produced by vineyards which are under that winemakers strict control. It is harder
to find consistency with grapes that are bought by a winery.